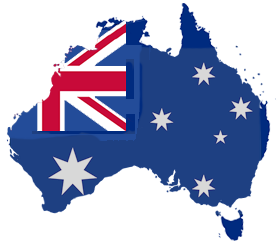 Australian Men's Rights Advocates - AustralianMRA
Newspaper Articles 2010
The Daily Telegraph, by Shelley Hadfield, October 08, 2011
A MOTHER has been ordered to repay child support to a man she claimed was her son's father after he discovered he cannot conceive.
For nine years the man believed the child was his after what he says was a "one-night stand". He told a court he believed the mother manipulated the situation.
The woman was ordered to repay the $3730 he paid.
---
Frustrated Father Protests Parental Alienation by Shutdown of the Sydney Harbour Bridge
Sydney Morning Herald,by Glenda Kwek, May 13, 2011 - 12:24PM
A man describing himself as ex-military has been charged following a daring protest that closed the Sydney Harbour Bridge in both directions this morning.
The man, identified as Michael Fox, was charged with obstructing traffic, climbing or jumping from buildings or other structures, and climbing on bridges, a police spokeswoman said.
He was refused bail to appear at Central Local Court today, she said.
Father protestor on Parental Alienation - 'Get my kids and other kids help'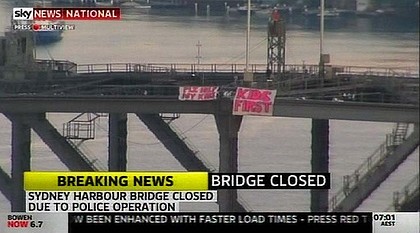 Major delays ... a man has been arrested after unfurling these two banners on the Harbour Bridge. Photo: Screen grab, Sky News
The NSW Premier, Barry O'Farrell, ordered an "urgent review" of security at the bridge, calling the incident "a major security breach".
"We need to learn lessons from it," he said.
"With the threat of terrorism still very real, my government will ensure everything possible is done to protect the security of the Sydney Harbour Bridge. It's the city's icon and I regard any security breaches to be very serious."
The review would look at security patrols, CCTV, physical protection barriers such as gates and fences and at criminal charges and penalties, Mr O'Farrell said in a statement.
---
The Age
The Age (Melbourne), By Katherine Murphy, 24 March 2011
The Gillard government will provoke the ire of fathers' groups today with landmark changes to family law designed to protect children in cases of domestic violence.
Attorney-General Robert McClelland will press ahead with legislation winding back some of the shared parenting changes ushered in by the Howard government.
The changes will make it easier for parents to produce evidence of violence in cases where parents are in dispute over contact arrangements. The legislation will include new legal definitions of abuse and family violence.
---
ABC, February 2, 2011, By Madonna King
The law is only one of the pillars of a system that just isn't working.
Laws, by and large, are great levellers: whether your annual salary is $1 million or $30,000, drink driving, assault, murder and a statue book of other crimes are all punishable.
In an irony evident this week, family law was shown to be very different: it's almost impossible to make one law fit all, or to prescribe the same legislative treatment to one family as the next.
And therein lies a serious problem for the Rudd Government with the release of the review into family law changes introduced in 2006.
The review and its recommendations are at least as controversial as the four-year-old law, finding that shared parenting laws had been misinterpreted, and were never meant to give a 50-50 custody split to each parent.
---
The Australian, 11 November 2010, By Chris Merritt and Patricia Karvelas
The Gillard government has unveiled radical changes to family law.
The changes would redefine domestic violence, place greater weight on child safety and could weaken the Howard government's shared parenting laws.
The changes, which are directed at cases involving abusive parents, elevate the safety of children to the top priority in custody disputes.
Whenever a court considers that this goal is in conflict with the right of a child to have a relationship with both parents, it will be required to give greater weight to child safety.
The change is contained in draft legislation released for discussion yesterday by Attorney-General Robert McClelland.
---
National Times, 08 March 2011
Talk about spoiling the party! Just as the 100th International Women's Day dawns over a perfumed world Aussie professor Kim Halford has released a study on female violence.
Women wallop men just as much as men wallop women, says the prof who claims domestic violence can often be blamed on the missus getting in a pre-emptive whack first. That's what he calls the "usual pattern". She hits him, he hits her, now you've got a punch-up.
Halford – he's a Queensland clinical psychologist – doesn't paint a very rosy picture of marriage. Almost a quarter of the 379 couples (22 per cent) told him there had been "at least one act of low-level violence in the year leading up to and including the wedding." (Makes you wonder why gays want to join in the nuptial free-for-all and indeed angry word-regurgitater Helen Razer sneers at the concept in a current rant ). That "low-level violence", by the way, means slapping or shoving, rather than punching.
Interesting finding, this. In the comments to my recent blog "Do men get a rough deal?" there were all sorts of wild claims (well, they sounded wild) about men being bashed by women. I mean, men are usually bigger and stronger than women, aren't they?