Welcome
AVoiceForMen.com, September 23, 2014
On Saturday, September 13, 2014, at around lunchtime, two sleep-deprived and nervous but also excited and hopeful men made their way into Melbourne's historic Young & Jackson Hotel, ordered a pint of Guinness each, found a table in the quietest corner of the back bar, and sat down to wait.
These two men were myself (Tom Voltz) and Adrian Johnson, co-founders of Men's Rights Sydney, and we were there to take part in the first regional gathering of MHRAs to take place under the banner of our newly launched national umbrella group, Men's Rights Australia.
We were sleep-deprived because we had been up doing research for a future project until 1:30 a.m. the night before and had to get up at 4:30 a.m. to catch the first flight from Sydney to Melbourne; we were nervous because we weren't sure how many, if any, would show up; and we were hopeful because if things went well it would really knock Men's Rights Activism in Australia up a notch,spice weasel–style—BAM!
One by one, over the next hour, a series of men with unfamiliar faces but familiar names and/or voices approached the table, introduced themselves, and sat down to chat. People who went by names like Nemo, Karma MGTOW, Jim Muldoon, Bane666au, and a bunch of others, they all started to arrive, and with each arrival our nervousness dissipated and our excitement grew. We even attempted to get James Huff to join the party via Skype, but the complications inherent with mobile Wi-Fi hotspots meant that we only managed to achieve that for about three-quarters of a second before it crashed in a heap. Sorry, James, we tried! Read More...
Mens' Rights Sydney Meetings
Men's Rights Sydney meets on the first Sunday of every month. Our next meeting will be:
Date: Sunday, 5th October, 2014
Time: 13:00 (1:00pm)
Location: The upstairs bar area of the Town Hall Hotel, Newtown NSW
The Town Hall Hotel is located right next door to Newtown railway station.
Finding Us: To prevent new members from having to ask people potentially awkward questions, we ensure that at least one member is wearing a white T-Shirt with our blue "Waving Man" logo on it. Look for someone wearing that shirt & you will find us.
One third of domestic violence victims ( ALL MEN ) denied services
Voice for Men News, September 15, 2014
Following last week's launch of Our Watch – a new national initiative aimed to prevent violence against women and their children – the One in Three Campaign has released a new analysis of the latest Australian data on male victims of family violence.
Senior Researcher Greg Andresen said, "We are very glad to see violence against women being taken so seriously by the Australian Government. However we are extremely concerned that one third of victims of sexual assault and family violence are excluded by One Watch and its sister organisation ANROWS simply on the basis of their gender."
The analysis of the ABS Personal Safety Survey and the AIC Homicide in Australia, 2008–10, published today by One in Three, challenges the claim that the vast majority of family violence is committed by men against women and children. Using the same data sources as Fact Sheets recently released by ANROWS, the new data analysis paints a very different picture of gender and family violence in Australia.
"The statistics presented by ANROWS have been designed to over-inflate female victimisation by using lifetime experience of violence instead of current rates, while downplaying male victimisation by taking only the female perspective," said Mr Andresen.
"75 males were killed in domestic homicide incidents between 2008-10. That's one death every 10 days," said Mr Andresen. "1.2 million Australian men have experienced emotional abuse by a partner, almost half a million have experienced violence by a partner and almost a third of a million have experienced violence by a girlfriend/boyfriend or date. Where are the services for these men and boys?"
The vast majority of domestic violence services in Australia are closed to males. There are no shelters for men and their children, no safe rooms or legal support at courthouses, no community education and prevention programmes, no support groups, no perpetrator programs for women or health service screening tools for men.
One in Three is calling upon the Australian Government to comply with its international human rights obligations and provide programs and services for male, as well as female victims of family violence. Read More...
---

The Daily Telegraph, The Herald Sun, by Phil Jacob, August 11th, 2012
VIRGIN Airlines has been accused of treating men like paedophiles, after it made a man swap seats because he was seated next to two minors.
Sydney fireman John McGirr, who wrote an online blog post titled "My Virgin experience as a Paedophile", was on board a flight from Brisbane when he was seated next to two males he estimates were between 8 and 10 years old.
Just before take-off Mr McGirr was approached by a flight attendant, who asked him to move seats because the company's policy states that men cannot sit next to unaccompanied minors.
"She said it was the policy and I said, 'Well, that's pretty sexist and discriminatory. You can't just say because I'm a man I can't sit there,' and she just apologised and said that was the policy," Mr McGirr wrote in a blog online.
---
The Daily Telegraph, by Shelley Hadfield, October 08, 2011
A MOTHER has been ordered to repay child support to a man she claimed was her son's father after he discovered he cannot conceive.
For nine years the man believed the child was his after what he says was a "one-night stand". He told a court he believed the mother manipulated the situation.
The woman was ordered to repay the $3,730 he paid.
---
Minister for the Status of Women stated to the House of Representatives on 25 May 2011: 'Surveys undertaken a few years ago by VicHealth found that 46 per cent of respondents agreed with the statement that "women going through custody battles often make up claims of domestic violence to improve their case". Forty-six per cent of respondents agreed with this.'
---
Sydney Morning Herald Poll - 2 out of 3 people believe that father protestor's action was justified in trying to get help for his children - Parental Alienation
On May 13, 2011, just after 5am, Michael Fox, a father, parked a hired truck near a pylon on the Sydney Harbour Bridge and climbed to the top of the arches.
The 38-year-old ex-military father protester unveiled two banners, reading "Kids First" and "Plz Help My Kids" at the top of the bridge. He claimed to the media that his children were victims of parental alienation.
Just before 7am, he abseiled down to the road below, where he was met by police officers. Northbound and southbound lanes were reopened about 7.30am.
Immediately after the protest, The Sydney Morning Herald newspaper conducted a website poll asking if such a protest was justified.
5 polls on other subjects found on the website of the Sydney Morning Herald on May 14 had between 1,200 and 4,300 voters.
By the end of Saturday, May 14th, about 32,000 people had voted on the poll with 2 out of 3 people saying the father's extreme protest was justified.
---
Frustrated Father Protests Parental Alienation by Shutdown of the Sydney Harbour Bridge
Sydney Morning Herald,by Glenda Kwek, May 13, 2011 - 12:24PM
A man describing himself as ex-military has been charged following a daring protest that closed the Sydney Harbour Bridge in both directions this morning.
Father protestor on Parental Alienation - 'Get my kids and other kids help'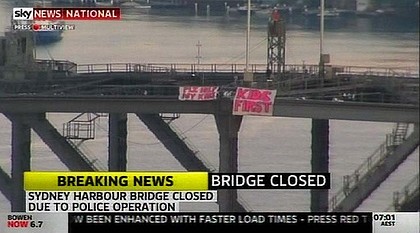 Major delays ... a man has been arrested after unfurling these two banners on the Harbour Bridge.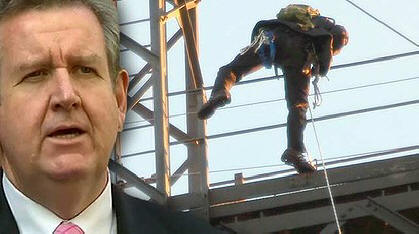 Barry O'Farrell orders urgent review.
NSW Premier Barry O'Farrell launches an investigation into how security at Sydney's iconic Harbour Bridge was breached by a lone protestor Friday.
The "ex-military'" protester abseils down after staging his Harbour Bridge protest.
The man, identified as Michael Fox, was charged with obstructing traffic, climbing or jumping from buildings or other structures, and climbing on bridges, a police spokeswoman said.
He was refused bail to appear at Central Local Court today, she said.
The NSW Premier, Barry O'Farrell, ordered an "urgent review" of security at the bridge, calling the incident "a major security breach".
"We need to learn lessons from it," he said.
"With the threat of terrorism still very real, my government will ensure everything possible is done to protect the security of the Sydney Harbour Bridge. It's the city's icon and I regard any security breaches to be very serious."
The review would look at security patrols, CCTV, physical protection barriers such as gates and fences and at criminal charges and penalties, Mr O'Farrell said in a statement. Read More …
---
Family Law Amendment (Family Violence) Bill 2010 - Exposure Draft
November, 2010
The Australian Government has released an exposure draft of the Family Law Amendment (Family Violence) Bill 2010 and welcomes further public consultation on proposed family law reforms.
The Attorney-General's office states that the Bill focuses on increasing the safety of children whose rights and interests are considered under the Family Law Act 1975. It is the position of the Attorney-General that this Bill would amend the Family Law Act to strengthen the role of family courts, advisers and parents in preventing harm to children while continuing to support the concept of shared parental responsibility and shared care.
The final date for making submissions is 14 January 2011. Unless submissions are marked confidential they may be published. Submissions may be the subject to a request under the Freedom of Information Act 1982.
Public comment is welcome on the proposed amendments to the Family Law Act. Send your written submission to:

Public Consultation: Family Violence Bill
Family Law Branch
Attorney-General's Department
3-5 National Circuit
BARTON ACT 2600
Email: familyviolencebill@ag.gov.au
Fax: (02) 6141 3248
---
---
ABC, February 2, 2011, By Madonna King
The law is only one of the pillars of a system that just isn't working.
Laws, by and large, are great levellers: whether your annual salary is $1 million or $30,000, drink driving, assault, murder and a statue book of other crimes are all punishable.
In an irony evident this week, family law was shown to be very different: it's almost impossible to make one law fit all, or to prescribe the same legislative treatment to one family as the next.
And therein lies a serious problem for the Rudd Government with the release of the review into family law changes introduced in 2006.
The review and its recommendations are at least as controversial as the four-year-old law, finding that shared parenting laws had been misinterpreted, and were never meant to give a 50-50 custody split to each parent. Read More …
---
The Australian, 11 November 2010, By Chris Merritt and Patricia Karvelas
The Gillard government has unveiled radical changes to family law.
The changes would redefine domestic violence, place greater weight on child safety and could weaken the Howard government's shared parenting laws.
The changes, which are directed at cases involving abusive parents, elevate the safety of children to the top priority in custody disputes.
Whenever a court considers that this goal is in conflict with the right of a child to have a relationship with both parents, it will be required to give greater weight to child safety.
The change is contained in draft legislation released for discussion yesterday by Attorney-General Robert McClelland. Read More …
---
MRA Position Paper - January 2011
Male Studies should be included in the curriculum of all universities in Australia.
Although Male Studies would counteract the many strange and misandric views of men and masculinity spewed by extreme feminist academia, there's more to the idea of a Males Studies curriculum than that.
Men tend to play certain roles in society and be viewed in certain ways and those roles and ways are worth analyzing and understanding by all men and women. As worthy as Women's Studies.
Extreme feminists and female supremacists react strongly against including Male Studies at universities. Their reactions lacked any understanding of the concept or of empathy with men.
Feminist reactions to Male Studies is usually "we don't need Male Studies because the material is already covered in Women's Studies," now called Gender Studies. They also falsely claim that Australian universities are full of the study of men, so a Male Studies program would be redundant. Read More …
---
National Times, 08 March 2011
Talk about spoiling the party! Just as the 100th International Women's Day dawns over a perfumed world Aussie professor Kim Halford has released a study on female violence.
Women wallop men just as much as men wallop women, says the prof who claims domestic violence can often be blamed on the missus getting in a pre-emptive whack first. That's what he calls the "usual pattern". She hits him, he hits her, now you've got a punch-up.
Halford – he's a Queensland clinical psychologist – doesn't paint a very rosy picture of marriage. Almost a quarter of the 379 couples (22 per cent) told him there had been "at least one act of low-level violence in the year leading up to and including the wedding." (Makes you wonder why gays want to join in the nuptial free-for-all and indeed angry word-regurgitater Helen Razer sneers at the concept in a current rant ). That "low-level violence", by the way, means slapping or shoving, rather than punching.
Interesting finding, this. In the comments to my recent blog "Do men get a rough deal?" there were all sorts of wild claims (well, they sounded wild) about men being bashed by women. I mean, men are usually bigger and stronger than women, aren't they? Read More …
---
National Times, January 11, 2011
Seems a bit rich these days to claim there is a ''glass ceiling'' for female jobs. Load of cobblers, isn't it? I mean, Australia has a female Prime Minister and a female Governor-General.
Has there really been discrimination over the years against mothers who work -- or against women without children?
The National Council of Women thinks so and no surprise there. I recently chatted with Victorian leader Jennie Rawther who pointed out that, among other things, women at the end of World War 1 had to give up their jobs to returning servicemen -- even though their husbands may have been killed in combat. There was no widow's pension, nor child support.
Sounds tough but Age reader Steve Hills of Rosebud is not impressed. "There is overwhelming evidence that female health, safety and female lives were held as more valuable than men's lives," he says. "Men's lives were routinely regarded as disposable. The view that women alone were discriminated against is an ignorant one." Read More …